The Atworth Village Magazine and Archive
The Atworth Village Magazine is the monthly magazine for the village and parish of Atworth.
QUICK HISTORY:
1977-1995 FOUNDERS: Esme Lambert and the late Elsie Gravestock, with Jennifer Barton founded the magazine in 1977.
1995-2005 Lynne & Martin Beta edited & published the magazine.
2006-2012 Kenneth Spencer edited & published the magazine, in print (570 copies/month distributed) and online (250 downloads/month).
2013-2014 Paul Tyler edited and published the magazine. At the beginning of 2014, it was published as an online-only.
2014 At the end of 2014, the magazine was discontinued, primarily owing to lack of funds.
2015-2016 The magazine was re-started on a small scale (4-8 A5 pages) by Anne-Marie and Lisa Walkden.
2016 the magazine ceased publication and has not been restarted since.

A LITTLE MORE
The first Atworth Village Magazine was created in 1977 by Esme Lambert and the late Elsie Gravestock, with Jennifer Barton. The sub-title of the magazine "Yer 'Tiz" was introduced after a competition for the name, and was the suggestion of Esme Lambert. The name reverted to the the Atworth Village Magazine for a while in 1995. There are some early examples of magazine covers here.
From about 1995 to 2005, Martin and Lynne Beta were responsible for publishing the magazine.
In 2006, avoiding a break in publication, Kenneth Spencer took on the responsibility of editing, producing and publishing a magazine for the village of Atworth. He named the new magazine "The Atworth Village Magazine", reverting to the title sometimes used in 1995 and at other times.
Kenneth is grateful for the help of Penny Laver, John Carter, and Jim Marsden for their help with the invoicing and finance rôle, and to Julia Kirwan, Don Coote and his wife Lynne, for distribution help all at various times during his editorial period.
In February 2009 Kenneth was delighted to welcome Jasmine Cainey as the Young Persons' Correspondent for the magazine, and when Jazz left to go to University to study journalism, we were very pleased that Elena Rossi indicated that she would like to write the Young Persons' Correspondent column - thus Elena started in September 2011 with volume 35.
During this period, the magazine was very successful, with a surfeit of advertising business, and plenty of article submissions from village and parish organisations, and from individuals, local and remote.
About 570 copies were printed and distributed, including about 20 paid-for subscriptions from outside the the parish. There were also a great many monthly reads and downloads of the online copies which were made available on this website.
The magazine grew from 16 pages all-mono in August 2006 to colour covers and 32 pages by 2012. Each issue cost approximately £350 to produce each month.
By 2012 at the end of this period, there was in excess of £1200 accumulated for small surplusses each month: this was made available to fund the first 3-4 issues at the hands of a successor editor and publisher.
In 2013: Kenneth was delighted to welcome Paul Tyler's offer to take on the magazine. Paul produced his first issue in December 2012-January 2013. Paul moved out of Atworth shortly after taking over the magazine, and after a short period of online-only publication, the magazine became financially unsustainable and ceased publication.
2015-2016: The magazine was revived in a much reduced form during 2015-2016, produced by Anne-Marie and Lisa Walkden. It was produced initially as a folded A4 four-page A5 sheet, but over the period expanded to about 8-12 A5 pages.

THE PERIOD 2006-2012

Here are a few details of the period 2006-2012, when the magazine was published by Kenneth Spencer, in close association with this website:
Who were we (the team from 2006 to 2012)?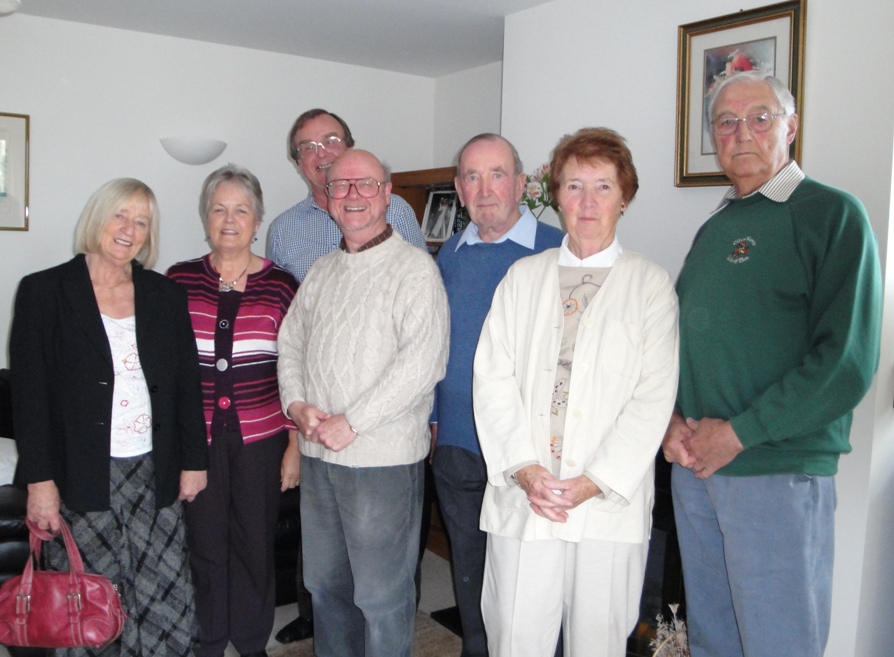 Some Members of the A
twort
h Magazine Team (at November 2009)
Left to Right
: Gay Harris, Jean Edwards (deliverers); Don Coote (Distribution); Kenneth Spencer (Editor); Jim Marsden (Invoicing);
Mavis King, John Lambert (deliverers).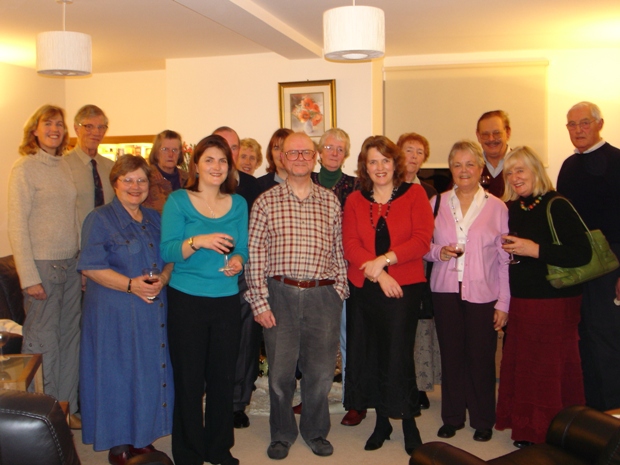 Some Members of the Atworth Magazine Team (at November 2006)
Back row: Debbie Martin, David Webb, Elizabeth Marsden, Jim Marsden, Mary Gibbs, Wendy McMahon, Heather Chaplin, Mavis King, Ron Harris, John Lambert.
Front Row: Pat Ruffell, Penelope Laver, Kenneth Spencer, Julia Kirwan, Jean Edwards, Gay Harris.
Not shown: deliverers Marion Mason and Lisa Bullock; fund raiser Anne Lightfoot.
Circulation and Subscriptions
The magazine had a circulation of 570 each month, and is delivered free-of-charge to every home in Atworth. There were also a number of subscribers outside the village who paid for, and received a copy by post. Persons who did not live within the parish of Atworth but wished to receive a copy could obtain a subscription, or buy a copy at three outlets within the village, including the White Hart and the Garage.
Buying single magazine copies
Copies of the magazine between 2006 and 2012 are in short supply but some remain available.
If you want one of these copies, email
webmaster@atworth.org.uk
and if they are available one can be sent for a nominal charge plus postage.
Back to first page [20180501]
---
This site, and its contents, except where otherwise stated, are copyright KA Spencer (Software), from August 2006 on.
No part of the site may be used elsewhere for any purpose whatsoever without permission in writing.
Comments to: webmaster@atworth.org.uk [20060801]