Welcome to the Atworth Village website!

THE LATEST:

Massive transformer passes through Atworth

A very large transformer passed through Atworth on Sunday 25th January 2015 on it way from Redditch to the National Grid switching station just north of Shaw. The transformer was required as part of the conversion of the Great Western railway line from London Paddington to Bristol Temple Meads from Diesel-electric to purely Electric motive power.
Here is a short video of it passing through: Click here

1. Community Police Messaging Service

Wiltshire Police and the Wiltshire Police & Crime Commissioner, in association with Neighbourhood Watch have announced a new joint initiative: the Wiltshire & Swindon Community Messaging Service.
Anyone is free to sign up to the new service, which will enable its members to receive messages about police & crime matters in their area, as well as community policing news, information about events, appeals for information, and crime prevention advice. Those joining may also seek to become involved in Neighbourhood watch, including in the setting up of new groups. There are no obligations of costs associated with signing up.
The place to sign up to the new service is: www.wiltsmessaging.co.uk.

2. ATAG - Atworth Traffic Action Group


A365 Safety Review


ATAG is pleased to report that the Wiltshire Road Safety Initiative is to conduct a survey and review of signing and road marking of the A365, including the western A365 out of Atworth, which has been the subject of so much dissatisfaction expressed by Atworth residents. The review will include an examination of suitability of double-white lineage. The survey and review will take place in the financial year 2014-15.


Road Traffic Accidents - They Cost YOU!


The report entitled "Joint Report - Costs of Road Traffic Casualties 2010-2011" revealed that Wiltshire Council (Fire, Police and Ambulance) spent £116million on dealing with road traffic collisions in the single year 2010 of the report.
The average costs were £1.5million per fatality, £178,000 per serious injury and £13,000 per slight injury.
Read the report in full here.
A representative from ATAG attended Wiltshire County Council's Cabinet meeting in Salisbury to request the creation of a process for examining these costs with a view to spending, strategically, a proportion of it in advance, with the objective of gaining a repeated reduction over several years. John Thomson, Wiltshire Councillor with responsibility for traffic & transport matters has so far failed to give us a reasonable answer to our request, but we will continue to pursue this matter.


Atworth's Narrow Pavements


ATAG's report on Atworth's Narrow Pavements is available for download from ATAG's website here: atag.99k.org/201308_narrow_pavements.pdf.

3. Please visit our Wiltshire Council page, as we have received an update from the
Melksham Area Board - read it here.


My new book:br> "All about your Computer"
by
Kenneth A Spencer
is available now from:
www.lulu.com/kaspencer
and from amazon.co.uk

A full explanation of how your computer works: memory, processor, hard disc, networks, the Internet, and the World Wide Web. It includes details on how to protect your data, and how to avoid virusses and other malicious software.
This book does not explain how to use your PC (there are many that do that) but rather how it all works. If you are a keen user who wants to know how it all happens, then this book is for you.!
THE ATWORTH VILLAGE WEBSITE

You are now viewing the Atworth Village website, which in August 2006, replaced the original Atworth website created by Martin Beta.

This website was created by Kenneth Spencer of KA Spencer (Software). The site is paid for by Kenneth, and is maintained in close co-production with the Atworth Village Magazine which Kenneth has also published since August 2006.

The Atworth Village website contains information on all aspects of village life in Atworth, serving all equally, not just one group, not just one organisation. If your organisation is not represented, simply use the email link below or at the foot of the page to start the process of getting your organisation onto the site.

If you live in Atworth, or have an interest in the village, then it is your site. You will find links to the various sections of the site in the scrolling pane on the left of the page. Just scroll up or down and click on the section that is of interest to you.

Please tell us what you think (webmaster@atworth.org.uk), and what you would like to see on the site.

New messaging service: As we receive a great many emails from persons who once either lived in Atworth, or had a family connection with the village, we have set up a new arrangement for simple messaging . You can leave a brief message, and residents who may regularly read this website may reply to you and provide help in answering your question. You will find the link to the Old Friends pages in the scrolling panel on the left. This service replaces the Family History link, as that can no longer be serviced.
If you are interested in Atworth from an historical perspective, you might like to read the brief Historical Note below. The note was extracted from various communications between the website author, Kenneth Spencer and Mr David Webb of Atworth, and with others.

The Village of Atworth is situated in the west of the county of Wiltshire, approximately equidistant from the town of Melksham which is to its east, and the magnificent Georgian City of Bath, in the county of Somerset, to its west. With a population of about 1300, it lies along the A365 as it passes east from Box to Melksham.
The co-ordinates of the Atworth Clock Tower, which is Atworth's most prominent monument are: N:53°23'33.45" W:2°11'57.27" A:73m.
Although Atworth nestles in a rather idyllic rural setting (somewhat spoiled by the A365), it is within easy reach of the Wiltshire market towns of Devizes, Chippenham, Trowbridge, Bradford on Avon, Westbury, Warminster & Frome.
The M4 motorway can be accessed eastwards to/from London via the A350 just north of Chippenham, or westwards to/from Bristol and Cardiff via the A4 and A46 north of Bath.
The famous mapmaker and cartographer John Speed (1552 - 1629) shows Atworth on his maps of Wiltshire. However, it appears with the name "Atford". Later, in 1773, the mapmakers Andrews and Dury, published a map of Wiltshire in which Atworth appeared as both "Atford" and as "Attworth".
The "At" component of the name has been associated with the word "oat", which may imply a role in the service of grain markets of the time.
When or where there may have been a ford in the village seems not be known at present.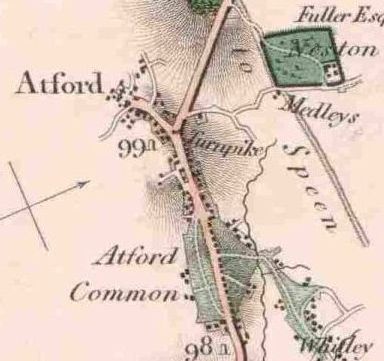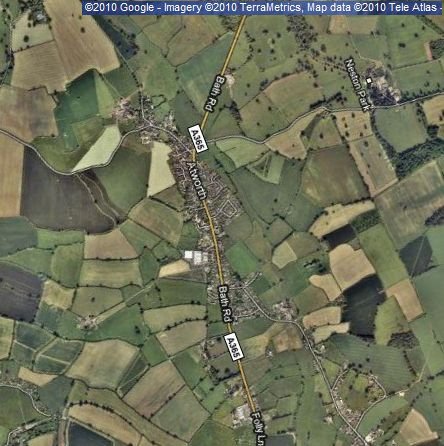 By the time the Ordnance Survey produced its first maps in the early 19th century, the village was almost exclusively referred to as "Atworth".

The change in Atworth ("Atford") between 1817 and 2005 can be seen on the two maps: the first is an extract from Edward Mogg's Survey of the High Roads of England and Wales published in 1817, and the second derived from the satellite image shown on Google Maps.

View the maps more clearly here.


[20141118]
Further Information:
ATWORTH A Little History (Atworth History Group)
The Church of St Michael Atworth A Short History (Prof WH Dowdeswell)
---
Suggested Links:
[20120101]
---
This site, and its contents, except where otherwise stated, are copyright KA Spencer (Software), from August 2006 on.
No part of the site may be used elsewhere for any purpose whatsoever without permission in writing.
Comments to: webmaster@atworth.org.uk
[20060801]
---